#tarot_review
Name: Mystical Manga Tarot
Creator(s): Barbara Moore, Rann
Approximate release: September 2017 (released)
Publisher: Llewellyn
Link
Description: Capturing the beautiful style and spirit of Japanese graphic novels, Mystical Manga Tarot encourages you to step boldly onto the road of adventure and discover what mystical opportunities lie ahead. Rann's exquisite artwork brings each character to life, and they offer you the guidance needed to navigate the pages of your story. This fun, easy-to-use deck is based on the Rider-Waite system and comes with a helpful guidebook by Barbara Moore. Whether you're a tarot enthusiast, manga fan, or both, Mystical Manga Tarot will delight your mind and speak to your soul.
Notes: Sold as a kit with deck and full-color guidebook.
Last edited by rif on Sat Jul 07, 2018 5:11 pm; edited 1 time in total
Review by rif:
There was a period of time where I was into manga styled art; as well as actual manga and some anime. I was also a (video)gamer, particularly of Japanese role-playing games (that's JRPGs to fans!). So that whole eastern aesthetic was ingrained in my system in terms of appreciation for the art, from the delicate hair-and-smoke stylings of CLAMP manga; to Tales of Xillia (the last Tales game I played); to Final Fantasy mainline games; to the classic Lupin III tv series.
It was only natural, then, for me to dabble in the manga tarot decks available. I had, and still own, the Lo Scarabeo manga tarot, with it's quirky reversals of the masculine and feminine figures in all of the cards. I liked it enough to buy the Mini version twice, replacing one that was lost. This was largely on the strength of Anna Lazarini's artwork, as I always found the deck to be just awkward enough in practice that I enjoyed perusing it more than reading it. I also had the USGames Magical Manga tarot deck, and even read with it a few times. I still remember Dan Pelletier's description of how wonderful it was as the device to play a storytelling game with likeminded friends. However, I found it a bit cold to work with, and was not really comfortable reading it, so I eventually sold it.
I eventually decided I was done with manga style decks, as the genre doesn't appeal to me so much nowadays. I had seen Mystical Manga in the store and passed it by with that thought in mind. Then I heard it being discussed on a podcast. It was originally the Poisoncage tarot, by a French artist named Rann who apparently was living and working in Japan. It sold out, got picked up by Llewellyn, and has come to us as the rebranded Mystical Manga tarot. After the podcast discussion, I looked it up online, and decided to give it a try.
It's a gorgeous deck in a sturdy, magnetic box with a solid, glossy, full-color guidebook. The cardstock is shiny — it reflects under a lamp in my living room in dim lighting. However, the cards do seem sturdy. The artwork is exquisitely detailed, and has a more "native" manga art style to my mind. It's more sophisticated or possibly drawn as if for a more mature audience than the above-mentioned decks, to my way of thinking. The cards are named and numbered per the Waite-Smith tradition and I feel all are readily identifiable if you're familiar with that style of deck.
I did run into an issue with my copy: the first ten cards (the trumps) all had a slight horizontal crease, that was less visible for each successive card. Llewellyn promptly sent me replacements for these, but the border and sides were colored differently, making them stand out. So they ended up sending me a whole new deck. I realize these things happen, but the publisher made it right.
The companion book describes a bit about the tarot, a thorough overview of how to read cards (including things like groupings and sequences), and of course full descriptions of each card. I rarely bother with the books that come with these, but I do think that Barbara did a nice job and this would be of good assistance to a new tarot reader, who was perhaps starting with this deck.
They seem to read well, but I haven't had them long enough to be put to a solid test. Given their Waite-Smith influence, I don't forsee any real difficulties, and I suspect these would be popular the next time I do my winery readings. I am glad to have them in my collection, and I dare say they are my favorite deck in the manga-themed art genre.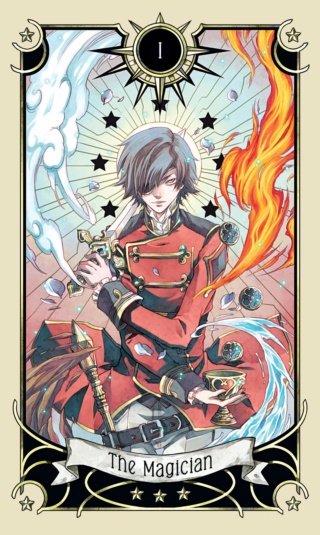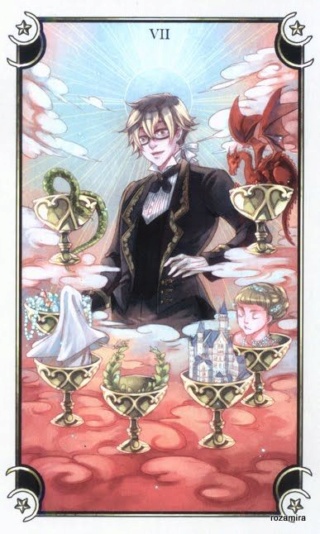 Similar topics
---
Permissions in this forum:
You
cannot
reply to topics in this forum